What can we say about Valentino Rossi! 9 world titles, 199 podiums, 89 victories, 54 poles. Without a doubt, he is one of the best riders in the history of motorcycling. In fact, for many he is considered the best. What am I saying, the best! Valentino Rossi is a religion and he is the rider with the most fans all over the world.
So, if you came to this article and you are a fan of 46, we will tell you 30 curiosities about Valentino Rossi that you may not know. Let's get started!

9 WORLD TITLE.

Valentino Rossi is the most successful MotoGP rider of the modern era: his legend has a total of 9 world championships: 1 in 125cc, another in 250cc and a third in 500cc. The rest in MotoGP.
Historically, only one other Italian rider surpasses him in titles: Giacomo Agostini.
WHY DOES HE WEAR THE NUMBER 46?

Valentino is associated with the number 46. But do you know why he wears it? Rossi chose this number in honor of his father Graziano Rossi, who was also a professional rider. Rossi's father won his first race in 250cc in 1979, the year Valentino was born, and wore 46 on his fairing. So Valentino chose the same number when he debuted in the MotoGP World Championship.
However, there is another theory: as a child, Valentino saw a race in Suzuka and a local rider won the race starting last. This anonymous rider wore the number 46, and Valentino promised to wear that number when he was a professional.
THE ONLY WORLD CHAMPION WITH SATELLITES

He is the only rider in modern times to have won a World Cup on a bike from a satellite team. A bike that did not come from the official team. It was his second year in the 500cc World Championship on a Honda. For many, this bike was first class and they do not appreciate this statistic.
However, the story still tells it.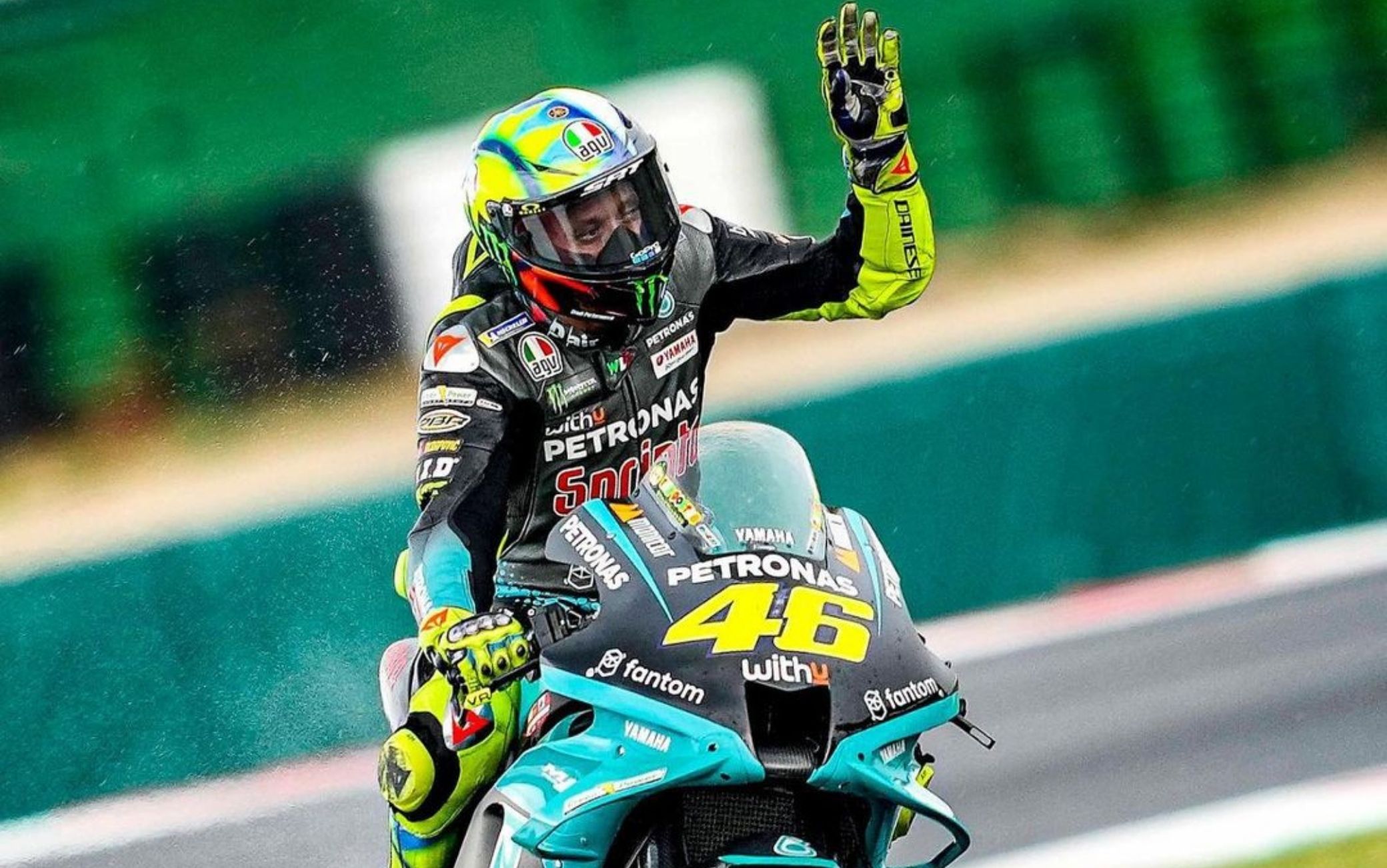 VALENTINO: FROM TAVULLIA TO HEAVEN

Although Valentino was born in Urbino, he grew up in Tavullia, a village on the Rimini Riviera. There he has his fan club and many friends from whom he has never parted. In fact, this group of friends is known as "The Chihuahua Tribe".
TAVULLIA IS A PLACE OF PILGRIMAGE

Today Tavullia is a place of pilgrimage for thousands of fans who travel to this small town. In fact, before the Rossi phenomenon, the village had only 1000 inhabitants. Currently, this number has multiplied by 7.
THE RANCH

Rossi still lives in Tavullia. There is the official 46 Fan Club, the academy and headquarters of his Moto2 and MotoGP teams and the "Ranch", the place where Valentino trains. All within a radius of 500 meters.
SPEED LIMIT OF TAVULLIA

Did you know that the speed limit in Tavullia is 46 km/h in honour of Valentino?

THE SLIDE

As a teenager, Valentino and his friends organized races in Tavullia, but not on two wheels, but on three! They used a kind of car they called Apex.

UCCHIO

Alessio Salucci, better known as Uccio, is his best friend. He has accompanied him in all his races and is his personal assistant. They have been friends since they were 3 or 4 years old.
VALENTINO DIDN'T PLAY SOCCER AS A CHILD

How did this friendship come about? They were the only kids in kindergarten who didn't play soccer and liked to run around on a tricycle. Foreshadowing, right?
SUPPORTER OF INTER MILAN

Although Valentino didn't play too much soccer as a kid, he admits to being a big fan of Inter Milan.

HIS BEGINNINGS.

As a child, Valentino started racing not motorcycles, but karts. Later, his father Graziano realized the potential his son had on two wheels. Besides, it was cheaper to pay for a motorcycle than a kart.
JUMP TO F1?

In fact, he likes car racing so much that in 2006 he was on the verge of jumping into Formula 1 as a Ferrari tester. Rossi ruled it out and continued to compete in MotoGP.
IL DOTTORE
Valentino has the nickname "Il Dottore". Why is that? Because in Italy Rossi is the most common family name and it is common that there are many doctors who call themselves that.
But this nickname, which originated as a joke among friends, became a reality when the University of Urbino awarded him the honorary title of Doctor Honoris Causa in Communication and Public Relations in 2005.

ROSSIFUMI

Although his nickname is "Il Dottore," he initially had another: Rossifumi. A young Valentino debuted in the 125cc World Championship and one of the fastest riders at the time was the Japanese Norifumi Abe. Because of this admiration, Rossi received the nickname "Rossifumi".
ANOTHER NICKNAME

Likewise, another nickname of Rossi is "Il Laureato", the graduate.

CELEBRATIONS

The celebrations of Valentino Rossi went around the world. He was fined by Carabinieri, he had to go to the toilet, and Snow White and the 7 Dwarfs appeared. Every victory was a spectacle!
THE OSVALDO POULTERER

One of the celebrations Rossi remembers most was in 1998, when he took a friend dressed as a chicken on the lap of honor. According to him, it was to promote Osvaldo Poultry Farmer, a company that had helped him in his early days.
A journalist wanted to visit the poultry dealer in Tavullia, and Rossi and his friends had to confess that the poultry dealer had never existed and that it was just a joke among friends. A curiosity in the purest Rossi style.
THE MOST SENTIMENTAL CELEBRATION

To be precise, the most sentimental was when he started crying after winning his first race with Yamaha, as his critics claimed he had won his first MotoGP world championship thanks to the superiority of Honda over the tuning fork brand. Rossi made the difference and became emotional as he crossed the finish line.
VALENTINO'S HELMETS

Valentino and the AGV helmet brand have always had a great relationship. Rossi has premiered more than 50 different graphics throughout his career. Mainly during the Italian Grand Prix. Who doesn't remember the donkey or the shark chasing the small fish?

VALENTINO'S BEST-SELLING HELMET

But without a doubt, Valentino's best-selling graphic is that of Soleluna: Sun and Moon, which represents the contradiction that we all carry within us.
HIS HELMET DESIGNS

His motorcycle helmets are designed by Aldo Drudi, an Italian designer and old friend of Rossi's father. Drudi is also the designer of other historic riders, like Kevin Schwantz.
These are the 15 best helmets of Valentino Rossi. Ingenious!

THE SECOND WALL

Although Valentino has a legion of fans around the world, he has also had his bad moments.
The appearance of Jorge Lorenzo, his new pit partner, was a revolution. Valentino decided to build a wall that would separate the two mechanics teams so as not to share information with his main rival.
VALENTINO'S rivals

But Lorenzo was not Rossi's only major rival in his career. He had tough battles on and off the track. Max Biaggi, Casey Stoner, Sete Gibernau, Jorge Lorenzo and more, recently with Marc Márquez.
PROBLEMS WITH THE TAX OFFICE

In 2008, Valentino experienced one of his most tense moments on an extra-sporting level, as he had to pay 20 million euros to the Italian tax office, which claimed a debt of more than 100. Rossi's lawyers settled the matter fighting after several years of litigation.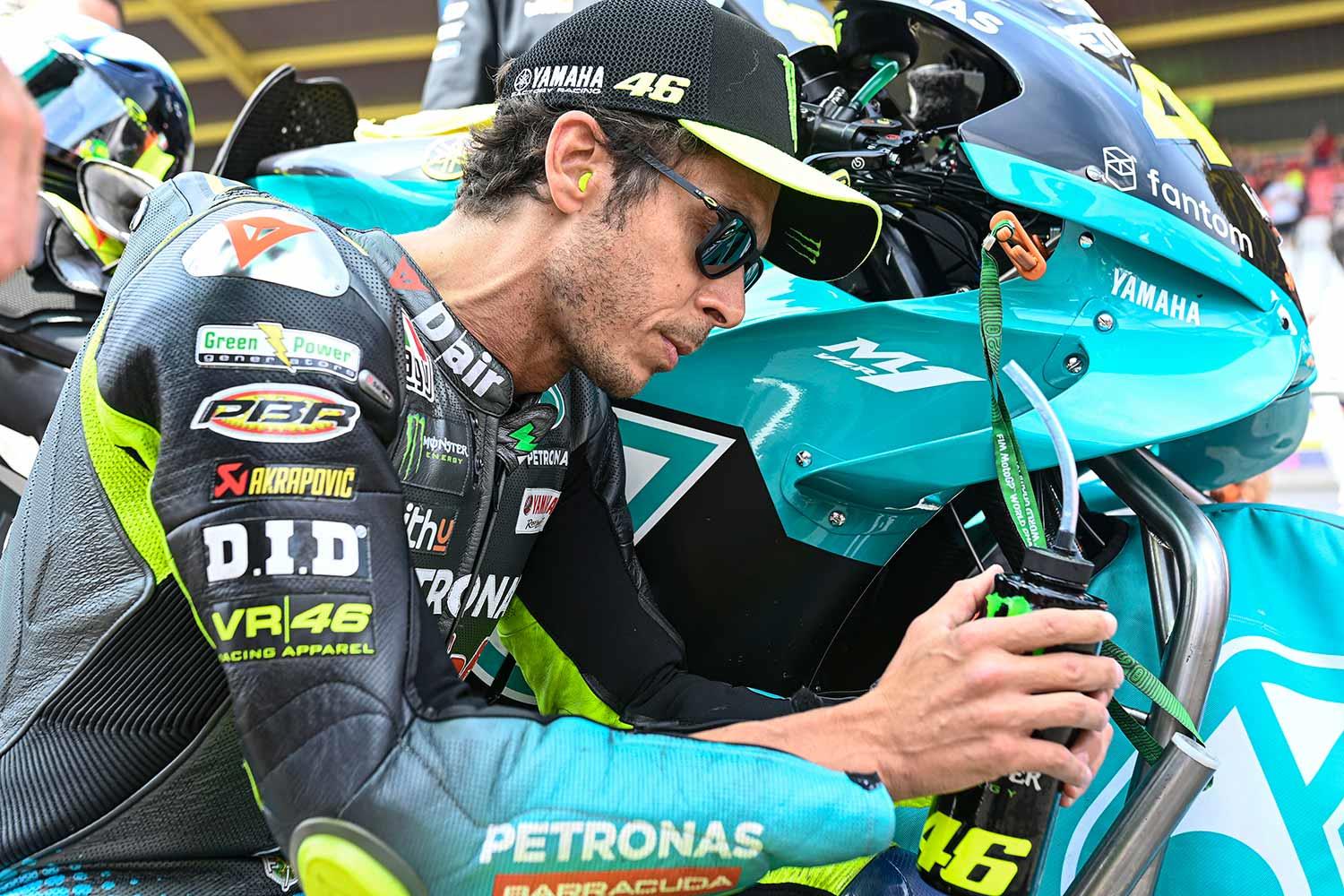 ROSSI IS A BATMAN FAN

Valentino is a Batman fan. He is passionate about "The Dark Knight" movies.
DO YOU KNOW WHAT HIS FAVORITE PIZZA IS?

Being a good Italian, Valentino loves pizza, the four seasons. But do you know how he eats it: with mayonnaise! The reason is that in the area of Pesaro, where he comes from, that's how they eat. Would you ask for it?
Neat freak
Normally, first-class motorcyclists are very neat, as a discipline is a fundamental part of their success. Well, Valentino recognizes that he is a neat freak and that he is very superstitious.
BUT BELIEVABLE

In fact, since his debut in 1996 at the World Championship, he has always had his rituals. Spending a few minutes whispering to his bike or adjusting his underpants just before leaving.
AROUND THE WORLD ON A MOTORCYCLE
No, it's not that Valentino likes to ride his motorcycle, it's that in 2018 he covered his 40,075th kilometre in MotoGP World Championship races. Or what is the same, the equivalent of a trip around the world? All this without counting training. Amazing, isn't it?
HIS PETS

Despite being a world-famous person, Valentino Rossi is a very reserved and homely person. Currently, he has two golden retriever dogs and a cat named Rossano.
This cat was adopted during a vacation of an Italian rider in Ibiza.