Motocross has been around for quite some time, but it has grown in popularity in recent years, there are now many tracks and clubs across the UK that anyone can join quite easily. It's all about taking motorcycling to a new level, going off-road and mastering jumps, whoops and tabletops while competing against others on difficult terrain. We discuss everything from how to get started, to how to participate, to the best motocross motorcycles on the market today. Whether you're looking to get into motocross or maybe have kids looking to start a new hobby, we've got it covered. It's time to dive in!
Where did motocross come from?

Motocross as a sport really took off in the early 19th century and is usually referred to as a "scramble" where motorcyclists compete against each other and ride over difficult terrain. As motocross grew internationally, it got its new name by mixing the words "motorcycle" and "cross country." The first recorded event took place in 1914 with the name Scott Trial and was held on the Yorkshire Moors.
Other early motocross-style events took place in Surrey over farmland and fields, pitting enthusiastic bikers against each other. Since then, the sport has grown and adapted, with new styles of bikes, special kits and tracks popping up all over the country – and the world for that matter!

Motocross Des Nations

The very first Motocross Des Nations took place in Holland in 1947, won by the British team consisting of riders Bill Nicholson, Bob Ray and Fred Rist. After the great success of this event, four years later the birth of the British Motocross Championships happened. Although the British dominated in the early years, the U.S. and France also claimed their fair share of victories – most notably with America's 13-year winning streak from 1981 to 1993. Motocross Des Nations is still hosted by a different country each year. It has been one of the most iconic events for all motocrossers to attend or participate in. The UK has hosted several times at Brands Hatch, Hawkstone Park, Farleigh Castle, Foxhills, Donington Park and most recently Matterley Basin.
Manufacturers introduce a new wave of motocross machines

Manufacturers began to invest real time and money in the 1960s to develop machines perfect for rough terrain and high jumps, with Suzuki more accessible in the UK along with other Japanese brands such as KTM, Kawasaki, Honda and Yamaha. The boom hit hard in the 80s with widespread media coverage in America introducing Supercross, resulting in major channels showing races and major sponsorship deals being signed. To top it all off, Neil Hudson took the crown for the Brits by winning the 1981 250cc Motocross World Championship on a Yamaha. Over the years, numerous wins and records have been set by British riders, including Kurt Nicholl, Paul Malin and Rob Herring, to name a few.

Motocross today

Today, people like Husqvarana have been able to make motocross lighter and more agile than ever before; this has really taken the sport to a new level. It didn't take long for other manufacturers to get into the big business of motocross, and now you'll see that everyone from Kawasaki to Suzuki to Honda have released a crosser lineup. There are many events around the country for MX riders, along with appearances by ArenaCross who travel around for their annual tournaments – that's something worth buying tickets for!
FIRST STEPS IN MOTOCROSS

How old do I have to be to participate in motocross?

Whether you're four or 44, there's something for everyone in the motocross arena. It's all about gaining much needed experience, which is why you'll find that there are always practice days/taster sessions throughout the year (usually in the better weather months) that you can get involved in. Fitness is extremely important in motocross, you will push yourself to new extremes as you conquer jumps and round corners, and it takes cycling to another level.

Ways to Train for motocross

If you are already a big fan of cycling and especially mountain biking / off-road riding, then this is a great exercise for motocross. You've already mastered the art of riding on mud, dirt and difficult surfaces – sometimes hard and sometimes extremely boggy (oh hello British weather), then this is a good place to start before you go out and buy your first crosser. You'll hear that many professional use BMW or mountain bikes as part of their training program, as the skills required for both overlap.
Obviously, the other key aspect is going to the gym if you want to up your game for motocross. When you're on the bike, you'll be using every muscle in your body, so it's important to do repetitive exercises to build your strength.
What is the difference?

Now there are a few different versions of off-road motorcycling on the market, but they are all unique in their own way. Take a look below….

Trials

Trials is a much slower sport where you need to be in complete control of your machine as you negotiate obstacles, and most importantly, you can't put your feet on the ground! If you normally ride a light machine without a seat, stand up to help you navigate a course (and limit the temptation of your feet on the ground) that consists of natural and man-made elements. Points are awarded based on how fast you can complete the course with the fewest mistakes.
Moto-Cross

As we've already discussed, motocross is usually a track-based sport on uneven terrain with jumps, tabletops, whoops and much more, but you'll have to compete against the clock to get the fastest lap time. ACU runs projects to give you a taste of the world of motocross before you shell out the money for a bike and kit. All you have to do is pay a small rental fee.
Enduro

Motocross but leveled. You're venturing to new extremes and really pushing yourself (and your bike) to the limit. Enduro days aren't for the light-hearted, but if you're a big motocross fan and fancy doing something a little different, it's worth checking out. These events usually take place in a larger area, sometimes involve walking through forests and jumping over fallen trees, through streams and more.
MOTOCROSS: THE COSTS

Getting into motocross won't be cheap, as you'll need to equip yourself with the right gear and a bike. Buying a bike isn't cheap, but you can find a pretty decent deal when shopping around. Think about looking at a used bike, even though it might be scratched up (this will inevitably happen with MX). Don't forget that you'll need to find a way to transport your motocross bike to and from events; these bikes aren't street legal, so you can't just hop on and ride there. You will need to own a van or trailer, or at least know someone who does, so you can get yourself and all your gear there!
Licenses/Insurance: Although motocross motorcycles do not need to be insured (since they are not licensed for road use), you still need to check. Most motocross events have an entry fee, usually around £30, and within that you have some sort of insurance.
Get your gear right It's important to be fully equipped for motocross. Crashes are likely, regardless of how experienced you are, as this is the nature of the sport. It's not worth skimping a few cents on gear, especially when it comes to saving your life.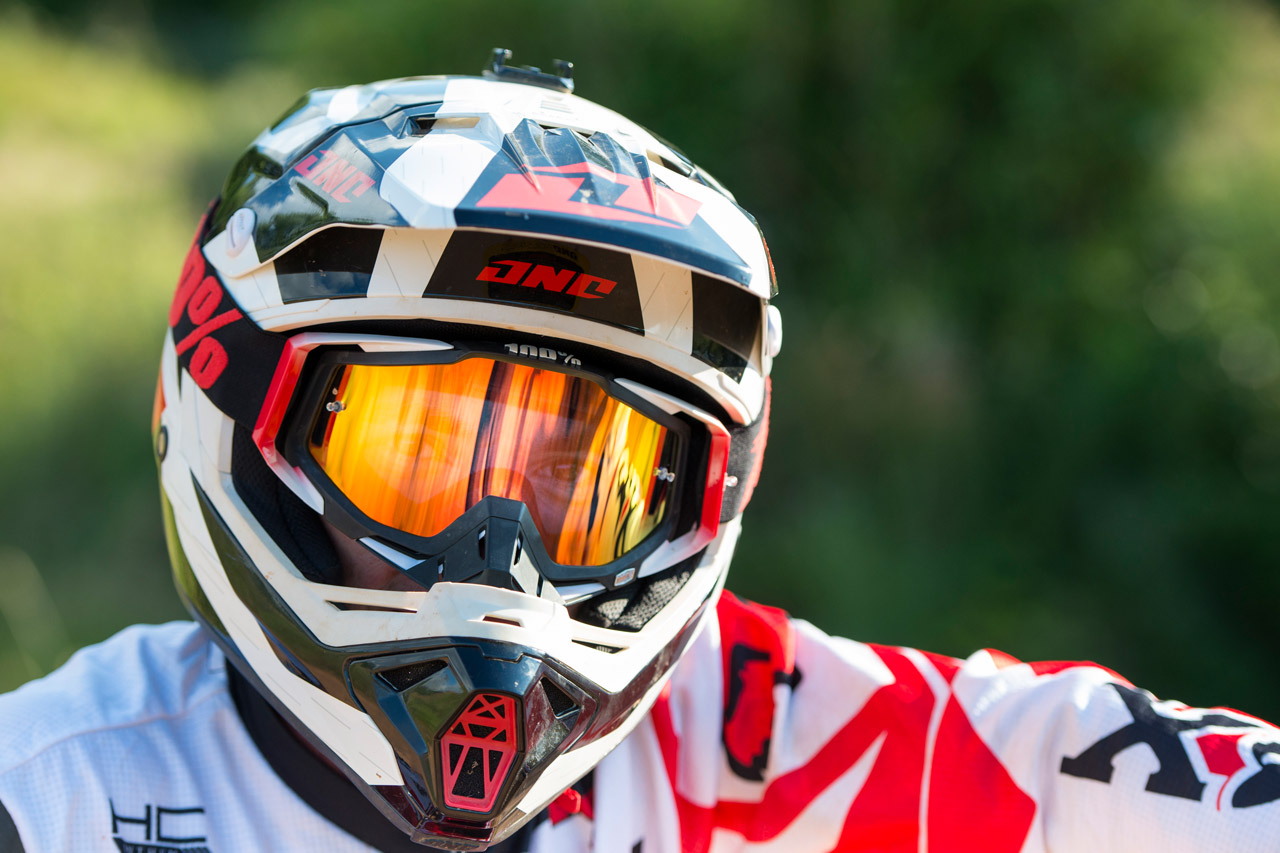 The most necessary

Helmet

Your ordinary bike helmet won't do for motocross; it can be too heavy on your head. They need to be as light as possible, and it will take a few bumps along the way. Helmets are open around the eyes so you can wear goggles. They also have a vented air piece to keep the air flowing during the race. On the days we get a little sunshine, the visors on the MX helmets are a great way to protect your eyes. The best thing about these helmets? Removable lining and cheek pads so you can wash it all away after a hard day of transplanting!
The same rules apply to a motocross helmet as a regular helmet, the lifespan is about five years max, but if you've been in a serious accident, it's best to replace it much sooner – some even suggest a new helmet every season!
Make sure your helmet is marked with ECE certification, and you'll need a silver or gold ACU sticker for your helmet if you plan to participate in an ACU-organized off-road event.
Helmets can vary in price, but if you are just starting out you should spend £150, but for professionals/racers, you will need to look upwards of £250.
Goggles

It goes without saying that motocross is a dirty sport. Especially crossing muddy terrain with rocks, debris and insects flying at your face among other things; goggles help against this. There are many different styles on the market, so it's best to try them out before you buy.
Ski goggles are specifically designed to allow you to put tear-off lenses in front of your lenses, which can be easily removed when racing. Compared to a regular crash helmet, you'll have a better field of vision because the goggles are much wider than your average visor – they can be tinted, anti-fog, and include a nose guard, but it all depends on your personal preference.
Don't forget the importance of safety glasses being shatterproof so your eyes are covered no matter what flies in your direction!

Gloves

Gloves are a must for racing, although not essential for motorcyclists in general, you should invest in a decent pair for off-road use. Depending on your riding style, you can get different types of gloves, but ultimately they will protect you if you crash. It's best to try them on for size, as you don't want to get blisters and sores from ill-fitting gloves.


Boots

Boots are a must as they not only protect your feet but also your ankles and shins from potential injury. Boots need to have a strong sole, you will be using your feet a lot more than you think, as well as decent straps and buckles to keep you secure without damaging yourself or your bike.
Remember, if you tried on helmets for size, it's the same with boots. Try on a few different pairs from different manufacturers to get a feel for them. They need to fit snugly and securely to prevent injury, especially to the ankle.

Make sure to invest in decent boots

Don't forget the importance of buying decent motocross socks – they actually exist! Your everyday cotton office socks just won't cut the mustard. Socks designed specifically for motocross will stay in place (no one wants the dreaded sock slippage in their boot) and will also help prevent moisture buildup, keeping you comfortable longer.
Body armor

Chest Protector

It's inevitable that you'll have a few falls, so it's important that you're fully protected to minimize injury. Investing in a chest protector can go a long way toward protecting your abdomen, chest, and shoulders from any kind of hazard, especially low-hanging branches, rocks, and other debris flying over the course.
Neck braces: Again, it pays to invest in neck braces. Many injuries result from repetitive neck strain or impact, so you have the best chance of staying fit. You can usually get chest protectors and neck braces that are compatible.

Lumbar Protectors

The lowest part of your back, also known as your lumbar spine, is the most affected when riding motocross. Poor posture along with the movements of riding a motorcycle over bumpy terrain can lead to long-lasting effects such as nerve compression, inflammation, stiffness and pain. Equipping yourself with a lumbar brace (sometimes called a kidney belt) can help combat this pain and protect you in the event of an accident.

Knee brace

Your knees take a lot of abuse when riding MX and are often the most common injuries as well. It is recommended that you wear a knee brace to protect yourself from potential and lifelong injuries. Basically, suspenders keep your knees from moving in ways they shouldn't – which can happen pretty easily if you don't wear them. You'll need to try on a few pairs, as everyone's knees are different, so you'll need to make sure they're comfortable and don't move around as you ride.

Clothing

Jersey

Jerseys need to be lightweight and breathable, you'll already have a lot of gear on but you still need to be aerodynamic. The whole point of a jersey is to help you stand out when you're flying around the track (and covered in mud). You can buy one at any reputable retailer for a reasonable price, and you can even personalize it!

Pants

Pants need to be comfortable, flexible and adjustable. The material needs to be waterproof and wipeable, it's usually polyester material because let's face it, you're going to get dirty! You have lots of gear on to protect you, including your boots and knee pads so they have to fit over and under. MX pants usually have Velcro or buckles so you can adjust the waist size to fit you comfortably.