Whether it's coming out of retirement, returning from injury or defying the odds to win a race from seemingly impossible positions, there have been some great comebacks in motorcycle racing over the years.
When it was in the former, it was often met with head shaking and comments like "it's a bad idea," and not all of them ended well, while riders will do anything to race again despite being seriously injured in their sports love. Here's a look at some of the best comebacks we've seen.

Mike Haiwood

Arguably the greatest comeback of all time, the general consensus on Mike Hailwood returning to Isle of Man TT racing in 1978 after an 11-year hiatus was that he was crazy – as great as he was, times had changed massively and the list of unknowns was endless, including the fact that he had never raced on slick tires and bikes were now equipped with disc brakes, not drum brakes. Few believed he could be competitive after such a long absence.
After riding a heavily camouflaged lap at the 1977 Manx Grand Prix to familiarize himself with the Mountain Course, Hailwood returned in 1978 with a Ducati 900SS provided by Sports Motorcycles and 250cc, 500cc and 750cc Yamahas in Martini livery. His first race, Formula 1, took place on June 3 and the then 38-year-old was not only competitive, he also managed to complete a fairytale come back with an extremely popular victory. The island was crowded with visitors and grown men were seen crying, so outrageous was what they had just witnessed.
He returned in 1979, although the Ducati was now outclassed by its rivals and he could only finish fifth in the F1 race, for his other two races that week, the Senior and the Classic, he had a two-stroke, RG500 Suzuki, at his disposal and He celebrated his 14th TT victory in the former, lapping at more than 184 km/h. Then he used the same bike in the Classic and fought with Alex George for the lead all 6 laps in another TT epic. On the road, they were more than a minute apart, rarely on time they were a few seconds apart, but Hailwood lost only 3.4 seconds.
Phil Read

Although not on the scale of Hailwood, Phil Read's return to the Isle of Man TT races in 1977 after a five-year hiatus was nonetheless impressive. Along with fellow World Champions Giacomo Agostini and Rod Gould, the Luton-born rider had led the boycott of the event, believing it to be too dangerous and not fit to be included in the World Championship, so his return was not without controversy. Read's view was that he always enjoyed racing at the TT and therefore had no problem returning – he just didn't think it was right to have to race there for world championship points.
The financial rewards had increased considerably as the Manx government lured Read and others with large sums of money, and he made his comeback with a variety of machines. His first race was the newly-introduced World Formula One race, aboard a factory Honda CB750, and he took his sixth TT win and his eighth world title, although even this was not without controversy as the race was abandoned early by heavy rain. Honda Britain was involved in a battle with Roger Nicholls and got wind of the decision. So he waved through at the end of lap three instead of bringing him into the pits for fuel, but Nicholls pitted, losing valuable time.
Read then drove his own RG500 Suzuki in the Senior, taking another win and lapping at more than 180 mph, and was well on his way to scoring a hat trick. However, he crashed before the Classic race at Brandish while unofficially testing his TZ750 Yamaha and subsequently broke his collarbone. He returned in 1978 and had a memorable battle with Hailwood in the F1 race before competing in his last TT in 1982 when he finished fourth in the Senior at the age of 43.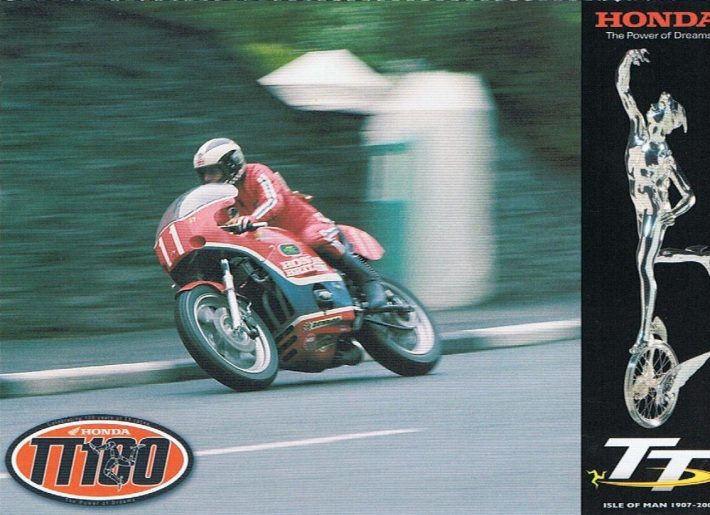 Barry Sheene

Barry Sheene defied the odds not once, but twice, making two miraculous comebacks from injuries sustained in two incredible high-speed accidents. The first came in March 1975 at the Daytona 200 at the age of just 25, but it was an accident that catapulted him into the popularity charts as the 175 mph crash was caught on camera when a television crew was there to produce a documentary.
An exploding rear tire left Sheene a crumpled heap on the embankment with a broken left thigh, right arm, collarbone and two ribs, but he recovered and miraculously was racing again seven weeks later. And on the RG500 Suzuki, he took his first 500cc World Championship win at the Dutch TT in June.
After winning two world titles in 1976 and 1977, Sheene was again fighting for a third title in 1982 when he suffered another high-speed accident, this time at Silverstone, when he hit the covered crashed machine of Frenchman Patrick Igoa during practice at 260 km / h the British Grand Prix. On this occasion, many thought it was really the end and his legs were completely shattered. The surgeon who pieced him together in an eight-hour operation said it was the most complicated procedure he had ever performed and likened the patient's injuries to a "jigsaw puzzle."
Two 7-inch stainless steel braces, two 5-inch plates and 26 steel screws were required to hold the bone fragments in his legs together, but he returned to racing the following season. Although the oil spill ended his potential as a title threat, he raced two more seasons and was back on a Grand Prix podium with a third-place finish at the 1984 500cc South African Grand Prix.

Ian Hutchinson
In 2010, Ian Hutchinson made history at the Isle of Man TT races when he became the first and only rider to win five races in a week. He was in superb form all season, winning at every international road race, but his season – and almost his career – came to an abrupt end at Silverstone in September when he crashed and was subsequently run over in a British Supersport Championship race. With compound fractures to the tibia and fibula in his left leg, it looked like the leg would have to be amputated, but with 16 surgeries and skin grafts, the leg was saved.
Complications ruled him out of 2011, however, and although he returned in 2012, he was anything but fit. After somehow riding in this year's TT, he retired from racing to begin an 18-month recovery with the prospect of returning in 2014. At the last minute, Hutchinson and his Milwaukee Yamaha team entered the Macau Grand Prix in November 2013 was a simply stunning return. After taking pole position, the Bingley Bullet took a sensational win from Michael Rutter to complete one of the most successful comebacks race fans have seen in recent history.
It didn't end there either, as he scored a hat trick of wins at the TT in 2015, a feat he repeated in 2016. In 2017, another double was scored to bring him to a total of 16, the third-highest of all, time by a solo rider, but a crash in the final senior race left him with more fractures on the same stage and he is currently recovering with an eye on returning in 2018. His determination knows no bounds.
Robert Dunlop

In the early 1990s, Robert Dunlop was at the peak of his powers and arguably the most versatile rider of his time. He won the British 125cc Championship and led the 588cc Norton to victory in NW200 and Ulster GP Superbike races. In 1994, he became the first rider to win a race on the new RC45 Honda when he scored a double victory at the North West 200, a meeting that completed his hat trick with another 125cc race win.
Just a few weeks later, however, the Ulster man suffered a serious accident during the Formula 1 TT race on the Isle of Man when the rear wheel of his RC45 collapsed as he left the village of Ballaugh. Dunlop suffered multiple injuries and a long hospital stay, followed by a protracted recovery, meant he was out of action for the rest of 1994 and all of 1995. He had severe tendon damage in his arm, which restricted movement, and a shortened leg, but He returned in 1996 but accepted that he could only race in the 125cc category.
In 1997 he finished third at the TT and scored a famous victory in the same race the following year, his fifth TT win, despite being back on crutches after a crash at the NW200 a few weeks earlier. Despite persistent pain and a deteriorating condition of his leg, Dunlop continued to race before sitting out the 2005 season, eventually having his leg broken and lengthened. Again he returned and with a long-term desire to win again at the North West 200, he took a record-breaking 15th victory in 2006 with another win in the 125cc race. Sadly, he was killed at the same meeting in 2008.

Conor Cummins

In 2010, Manxman Conor Cummins led the Isle of Man TT Superbike race after running from a standing start at over 131 miles per hour, just a fraction behind the absolute lap record. With a lead of over 20 seconds he was well on course for his first TT win, but the McAdoo Kawasaki refused to fire after his second pit stop and with his lead whittled down he was forced to reluctantly retire on lap five at Laurel Bank.
Later in the week, the senior race was abandoned on lap three after a crash at Ballagarey involving Guy Martin. On the restart, the Ramsey rider was just three seconds behind race leader Ian Hutchinson when he crashed spectacularly on the verandah in front of the TV cameras on lap two and his list of injuries was long – a badly broken left arm (with nerve damage), two broken bones in his back, a dislocated knee and ligament damage, bruising to his lungs and a hairline fracture to his pelvis.
The recovery period was long and included the insertion of two 10-inch steel rods in his back, but miraculously he was back racing at the start of the 2011 season and although he was far from fully fit, he finished sixth in the second season Supersport TT race. As time went on he got stronger and stronger and was back on the TT podium in 2014 riding for the factory Honda team. He is still very much up front in road race results.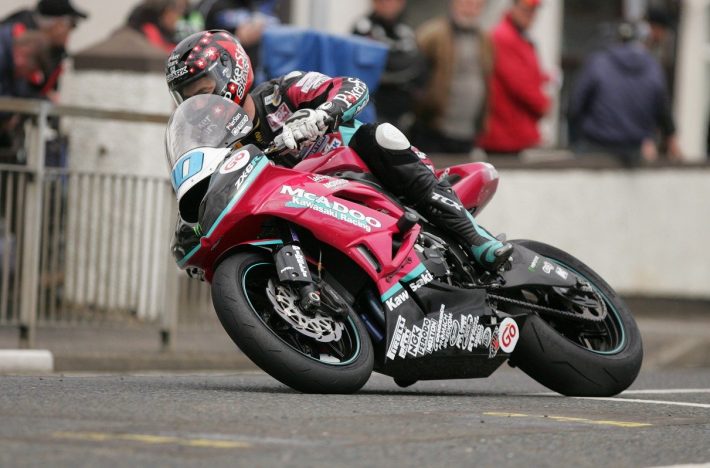 John Kocinski

After winning the 250cc World Championship in 1990, John Kocinski moved to the 500cc series the following year as part of the all-conquering Marlboro Yamaha team, and although he wasn't quite as successful, he finished third overall in 1992 and 1994 the latter with Cagiva, which he had joined midway through the 1993 season. However, the Italian manufacturer withdrew from racing at the end of 1994 and Kocinski retired to focus on becoming a professional water skier.
In early 1996, however, he was lured out of retirement by Ducati, which signed him to replace Carl Fogarty in the World Superbike Championship. The American nearly won the title on his first attempt, despite falling out with Ducati during the year, and finished third overall with five wins. He then joined the factory Castrol Honda team in 1997 and his comeback was perfect as he won the title with nine wins and seven podiums, defeating Fogarty who, ironically, had replaced him at Ducati.
Max Biagi

Max Biaggi participated in the Grand Prix Motorcycle World Championship from 1992 to 2005, winning four consecutive 250cc World Championships between 1994 and 1997 and finishing second in the 500cc/MotoGP class no less than three times, in 1998, 2001 and 2002. But he lost his ride for the 2006 season and although he tried to strike a deal with Honda, Kawasaki and Suzuki, his efforts proved futile and in January 2006 he announced that he would not participate in the 2006 MotoGP season.
An attempt to enter the World Superbike series also failed and he subsequently took a break from racing. However, in September 2006 it was announced that he would ride for Alstara Corona Suzuki in WSB in 2007, and although he was a year away from racing, he won for the first time in Qatar, becoming the only rider ever to win his first Superbike race and his first race in the 500cc Grand Prix. He finished the year third overall, but won the title in 2010, becoming Aprilia's and Italy's first World Superbike Champion, and again in 2012 before retiring at the age of 41.

Eddie Lawson

Four-time 500cc World Champion Eddie Lawson shocked the paddock when he left Marlboro Yamaha to join Cagiva in 1991, and given that the Italian manufacturer had managed just one podium in over a decade of Grand Prix competition, many thought it was a move from the Californian to secure a big payday before his retirement.
Lawson wasn't just a racer, he made the Cagiva a front-runner, and after two podiums in 1991, his best moment came at the 1992 Hungarian Grand Prix when a smart tire choice paid off. The race began in the wet, but Lawson opted for an intermediate front and a cut-slick rear, although his decision appeared to be wrong as he fell backwards through the field, at one point more than a minute behind the race leader. Conditions began to change, however, and as the course dried Lawson's tires came into their own and he began to climb up the leaderboard.
He cut past those in front of him and after passing Kevin Schwantz, he quickly passed Wayne Rainey and Randy Mamola to leave only Doug Chandler in front of him. Many drivers came into the pits to change tires, but Lawson passed Chandler with two laps to go and eventually won by over 14 seconds. It was Cagiva's first 500cc win and Lawson's 31st and last in a brilliant career.
Ralf Waldmann

The 2000 250cc World Championship was a year-long battle between Olivier Jacque and his Chesterfield Tech 3 teammate Shinya Nakano that went down to the last lap of the final race, but even more remarkable was Ralf Waldmann's last lap victory at this year's British GP .
The race started dry, but with rain not too far away, tire choice was a gamble. With just 13 laps to go, Waldmann's choice of rain tires looked disastrous as he was 90 seconds behind leader Jacque and just one corner away from being lapped, but then a lifeline was thrown to him; rain began to fall.
Waldmann was suddenly over five seconds a lap faster than his French rival and closing up, but as they went into their final lap the gap was still eight seconds and certainly too big to bridge. Waldmann, however, was getting faster and faster, although Jacque was still leading going into the final corner.
Ralf was not to be denied, however, and with the superior grip, he accelerated past on the run to the line to take his 20th and final GP win and leave Jacque almost speechless.